Rock Cut State Park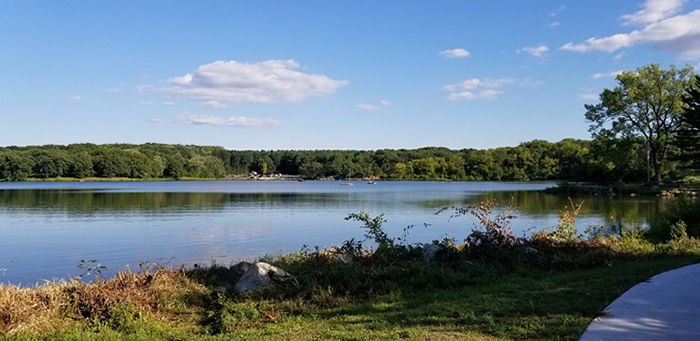 Rock Cut State Park is located near Rockford and the Rock River. The park contains 3,092 acres of land and water recreation, including the larger Pierce Lake for fishing and boating and smaller Olson Lake for swimming. There is a trail system for hiking and horseback riding. The campground offers 215 Class A tent/trailer/RV campsites and 60 Class B tenting sites away from the lake. Reservations are available at ExploreMoreIL or https://camp.exploremoreil.com/. The preferred entrance to the park is using the Main Entrance off of IL Route 173.
Concessions are located near the Boat Ramp, offering an air conditioned dining area or outdoor deck for dining. Breakfast and lunch-type food can be ordered at the counter off of the fairly large menu. Bait can be purchased in the store next to the snack bar, in addition to firewood and ice. Canoes, motorized fishing boats, and pontoon boats are also available for rental from this store.
Hiking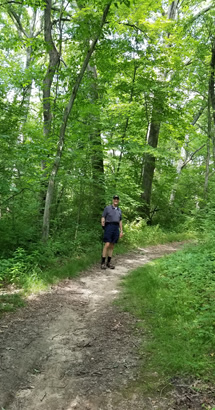 Rock Cut offers 40 miles of hiking trails, 23 miles of mountain biking trails, and 23 miles of equestrian trails. Signs for the trails are identified using color-coded trail markers: blue for mountain bikes and hikers, yellow for equestrian, and red restricted to hiking only. The trails are a combination of prairie, areas next to the lake, and woods. Most of the trails are marked with visible signs, although the less used trails seem to have fewer markers. As you hike on the wooded trails you will notice the tree cover changes from conifer to deciduous sometimes. There are several day use areas with water faucets, picnic tables, and pit toilets available to you if you are hiking for extended periods of time.
Camping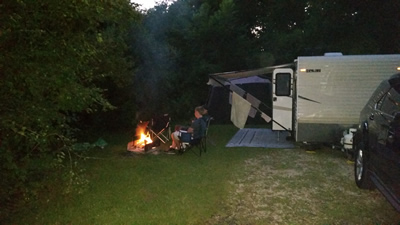 Campsites are situated on five loops in the area of the park designated for camping. There is a camp store, centrally located and near the Plum Grove Loop, for campers that sells firewood, ice, ice cream novelties, and some items you may have forgotten, like bug spray. There is a trailhead near the camp store for a trail that runs both east and west from the road. Two shower buildings with flush toilets service the campground. Drinking water is accessible from the sanitary dump station and at various faucets throughout the campground. A playground is located near the Plum Grove loop.
Each campsite is equipped with a picnic table and fire pit, usually with a grate. In addition, Class A campsites offer electricity for campers. Two vehicles are allowed per campsite and there is no additional parking area for more vehicles. Handicapped sites have concrete pads and other sites may have gravel driveways. There are pit toilets located in all of the campsite loops. The camping areas are mostly open and partially shaded.
There is a Meijer store a couple miles down the road from the Main Entrance on IL Rt 173 where additional groceries or forgotten items can be purchased. Gasoline can be purchased at this location, too.
Resources:
Access ExploreMoreIL to make a reservation at an Illinois State Park.