Ludington State Park
Shoreline visible along shore at Ludington State Park
Ludington State Park is located between Lake Michigan shoreline and Hamlin Lake with a choice of three campgrounds within the park. One landmark we always visit is the Big Sable Point Lighthouse. Other trails take the hiker through dunes, wetlands, and forests. Interpretive exhibits and programming are available at the Lake Michigan beach house which is located in the day-use area.
Hiking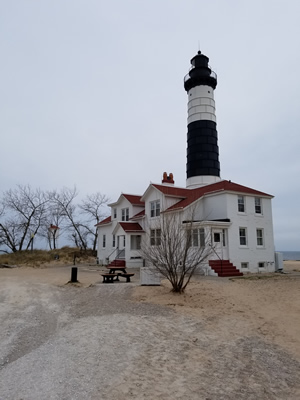 The trail system at Ludington encompasses 21 miles of marked trails through dunes, wetlands, and forests. The trail to the Big Sable Point Lighthouse is 1.8 miles on a sand-and-gravel path. This path is considered strenuous with little shade to escape the heat during warmer weather. It is advised to carry water when hiking in this area and other trails during warmer weather.
A paved path connects the Lake Michigan Beach House on the western edge of the park to the Harrison Beach House and Hamlin Dam on the eastern side.
There are nine trails of various lenghts and difficulty levels at Ludington State Park. We can not identify some our trail images. Most of the trails are exposed to the sun, with little or no shade. The images showing a boardwalk are from the Skyline Trail which is a short, elevated trail offering many great views of the area. The Hamlin Dam is also pictured here. A description of all the trails can be viewed at https://www2.dnr.state.mi.us/parksandtrails/details.aspx?id=262&type=SPTR. Download a park trail map.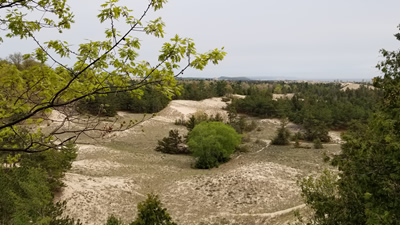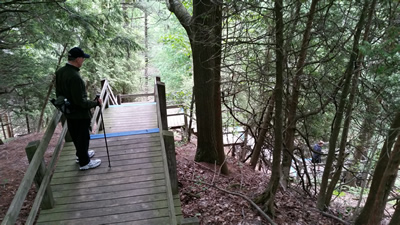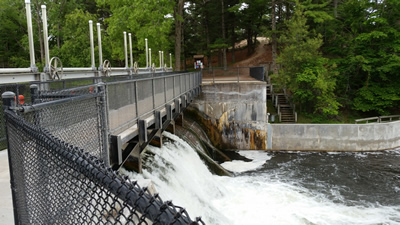 Camping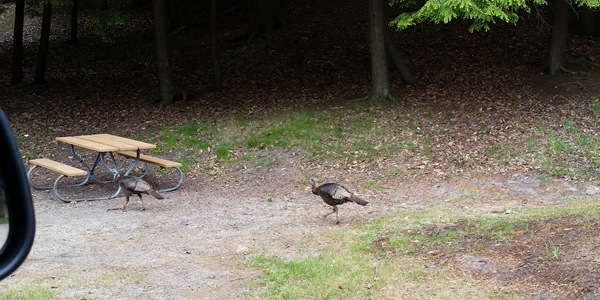 There are three campgrounds available for those desiring to camp in the park. The campstore is located at the entrance to the Cedar Campground, a short walk along the paved path from the Pines Campground.
Ludington Beechwood Campground, located on the east side of the park near Hamlin Lake, has three loops with campsites shaded by large trees. Most sites offer 20/30 amp service while some offer 50 amp service. Potable water and a sanitation dump station is nearby. Park trails are accessible from each loop in the campground. Each loop has a shower building and flush toilets. The middle loop offers a playground and a family restroom. Vault toilets are provided also.
Ludington Cedar Campground is divided into two loops with 106 campsites which are open and sunny. Eight campsites are tent-only with no electricity. The remaining sites have 20/30 amp service. Potable water and a sanitation dump station are located where campers register. There is a sanitation station for tote-along waste located within the campground. This campground also offers a shower building with flush toilets, including a family restroom. Bike rentals, firewood, ice, groceries, and souvenirs can be purchased at the concession/store at this campground. Recycling is offered at this campground.
Ludington-Pines Campground has two loops with shaded sites and is near Lake Michigan. Electrical service is mostly 20/30 amp with some 50 amp sites. The sanitation dump station is nearby. This campground is located at the trailhead for the sand-and-gravel pathway to the Big Sable Point Lighthouse. The Logging Trail starts from this campground also. Each loop has a shower building and flush toilets with a family restroom. There is a vault toilet in this campground.
Our Notes
The town of Ludington is just south of the park where restaurants, small shops, and fast food restaurants could be visited before the pandemic -- will update this information after our next camping trip to Ludington State Park. For grocery shopping, there are a couple stores in Ludington plus a Walmart and Aldi off of Rt 10, just east of the town.
The Michigan Recreation Passport is required for all vehicles entering state parks, state recreation areas, state boat launches, state forest campgrounds, and state trail parking lots in Michigan. Residents are charged a reduced rate. The Recreation Passport is either a daily or annual pass. Annual passes are actually stickers that are displayed on the windshield.
Attractions
The Historic White Pine Village with knowledgeable individuals dressed in historic costumes is located in Ludington, offering a couple hours to explore some history.
The Port of Ludington Maritime Museum offers a three-level, indoor maritime museum filled with interesting digital and interactive exhibits. The S.S. Badger Carferry is nearby.
More information on what Ludington offers besides the state park can be viewed at https://www.visitludington.com/.
Resources: