Muskegon State Park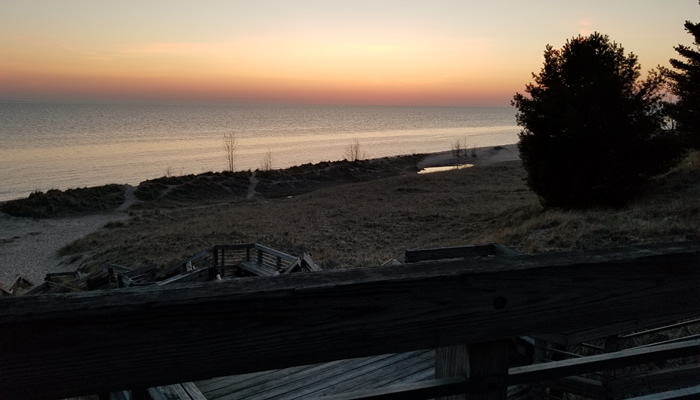 Sunset as seen along shore of Muskegon State Park
Muskegon State Park is located along two miles of Lake Michigan and near the town of North Muskegon. There are two campgrounds in this park: Muskegon - Lake Michigan Campground within a short walking distance of Lake Michigan and Muskegon - South Channel Campground situated along Muskegon Lake. Swimming in Lake Michigan is a facilitated by the use of a beach house on the lake with restrooms.
Hiking
There are several trails at Muskegon State Park stretching along Lake Michigan and also meandering through the other park land for 12 miles. Our favorite trails follow Lake Michigan along the shore or the ridge on top of the sand dunes next to the shoreline.
Camping
There are two campgrounds available for those planning to camp in the park. Both campgrounds are serviced by modern restrooms with flush toilets and showers. Potable water is available from late April to mid October.
Lake Michigan Campground is located in the northern area of the park, just off of North Scenic Drive. Amenities offered include 50 amp electrical service and modern restrooms. Potable water and the dump station are located across the street from the park registration office. There are two mini cabins available for rental year-round with a vault toilet between the cabins. There are several unisex showers at the restroom building, each with their own lockable, metal door accessible from the outdoor area next to the restrooms.
South Channel Campground located along the coast of Muskegon Lake, offers 139 campsites with 50 amp electrical service and modern restrooms. Sites are located on two loops: the first one next to the navigation channel and the second loop near the large dune and Muskegon Lake. The second loop (sites #101-147) offers larger sites.
Our Notes
Registration for your campsite is normally available just as you enter the campground.
The Michigan Recreation Passport is required for all vehicles entering state parks, state recreation areas, state boat launches, state forest campgrounds, and state trail parking lots in Michigan. Residents are charged a reduced rate. The Recreation Passport is either a daily or annual pass. Annual passes are actually stickers that are displayed on the windshield.
Resources: